Ask a Coach - Get to Know Our Next Expert!
Published on
Aug 22, 2018
About Devesh Chawla – CEO & Founder of Chatur Ideas
Devesh Chawla is an entrepreneur based out of Mumbai, India. He has studied engineering and holds an MBA from Mumbai Education Trust - Institute of Management in Finance and Insurance. He is business strategist, a mentor, an investor, an efficient leader, a consultant and an all-around business man! He is deeply committed to adding value to the start-up ecosystem and to revolutionizing the entrepreneurship in India. He has worked with hundreds of startups including Catapooolt, Strike, Orbit Marketplace, Maax Market, Hubilo, Market Pulse and many more. He also runs entrepreneurship programs in colleges and startups along with joint certification courses with IIT-B, Spinta Global Accelerator, USA, to name a few. He has trainers he works closely with throughout the country.
Recently he won the "Entrepreneur of the year 2018" by the Indian Achievers Forum. He has also been awarded the prestigious Mahatma Gandhi Samman Award, which has been given to only 25 Indians around the world.
How did Devesh get to where he is now?
It all started when Devesh wanted to start a business of his own in the field of hailing cabs. Devesh had created a wonderful working model and had begun reaching out to prospective mentors in the industry to seek guidance. Time and again he was told not to pursue this business. May mentors explained this type of enterprise would only be successful for an entrepreneur with political connections who was also connected to local managing unions. Devesh was even told that this industry was too traditional and a business in cab hailing was not meant for a young, energetic entrepreneur.
After getting rejected several times, Devesh dropped the idea and joined an organization where he managed wealth of ultra HNIs (ultra-high networth individuals) and made investments on their behalf in India and abroad. He made investments in equity, debt, real estate, and more.
In 2012 he was enjoying his work as an investor and was experiencing a flourishing career. Then one day he read news that Ola Cab (an Indian cab hailing service) had entered the 1000 crore club (an Indian designation for companies that have grossed more than 10 billion rupees). At this time, he realized that there is nothing that a young and idealistic entrepreneur cannot do. The mentors and experts who have given him guidance before, warning him not to get into cab hailing, had been far too conservative. They had not understood the potential of young entrepreneurs to transform and disrupt long-standing industries.
This moment made a significant impact on Devesh. In 2015, he established Chatur Ideas, an ecosystem builder and support community for startups and entrepreneurs to get the right guidance from industry experts and investors.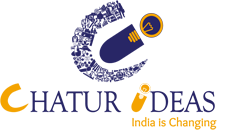 So Devesh, what's it like to be a mentor?
Mentors amplify the chances of finding the right business opportunity and of success. They provide moral and strategic guidance that can literally leapfrog entrepreneurs to high-levels of growth and success. The valuable connections, timely advice, and occasional checks are also some of the perks.
As a mentor, I have worked with more than 1800 startups. It has been a roller coaster journey not only the entrepreneurs, but for me also. Startups have various questions, from managing a team to managing personal life issues, to dealing with investors on the board, and to any other possible topic you could think of entrepreneurs have an endless number of tough questions.
One such story that I can talk about here is a of an individual who was a CXO (Chief Experience Officer) at a respected firm. At the age of 49, he decided to quit and start his entrepreneurial journey. During his career, he had savings of more than 1.25 crores (200,000 USD). He spent 3 crore (30 billion rupees) along his entrepreneurial journey and burnt through his entire savings but to no result.
At this point he approached Chatur Ideas. At Chatur Ideas he connected with me and he shared his story. I realized after spending some time with him that the reason for the failure of his venture, despite the fact that he was an outstanding performer at his previous company, was that he wasn't prepared to get his hands dirty.
One key quality needed to be an entrepreneur is to be humble, always ready to get your hands dirty, and be in direct connection with your customers. This gentleman over the last few years had developed the professional ego that is normal in the corporate industry after years of climbing up the corporate ladder. However, having such an ego doesn't work in the startup ecosystem. He was not ready to wait outside his customer's office or work directly with customers. He often walked away from potential clients because of his unwillingness to be humble and drop his ego.
He was often unwilling to perform basic tasks; tasks that at his previous company, had been outsourced to companies and individual workers paid much less than he. Because of his lack of customer experience and understanding, his unwillingness to do certain basic tasks, his venture made many mistakes and in turn burnt through a lot of money.
When he asked me for guidance, I made sure that he understood he needed to work on his mindset; he needed to be humble and grounded, because as an entrepreneur, he was starting back at square one. I spent more than one month of training just working on shifting his attitude towards business life and his startup.
The next few months we worked on his business plan and built a strong value proposition and revenue model. The subsequent months were spent in learning how to understand his customer requirements and create a strategy accordingly. Since the start of our mentor relationship, it has been more than 9 months and he has started generating revenue of 7.8 lakhs (12,000 USD) per month. Every time he meets with the Chatur Ideas team, he is grateful for the guidance and work which we put in to helping him along his startup journey.
This is not a simple journey, but it is definitely worth it.
Prepare your questions because tomorrow Devesh will be live on the Ye! Community Facebook.
Ask a Coach Hour with Devesh Chawla will be held from 15 - 16:00 GMT +2 (17:30 - 18:30 IST), please check your local time.
We have our questions ready! Do you?
See all the upcoming 'Ask a Coach Hour' sessions here.